Blister Packaging: Elevate Your Business with POWERPAK Industries, LLC
When it comes to product protection and efficient distribution, the power of blister packaging cannot be overstated. A strategy that once seemed exclusive to colossal enterprises is now attainable for businesses of all sizes, thanks to POWERPAK Industries, LLC. We are the leading purveyor of comprehensive blister packaging solutions, specifically crafted to meet diverse needs and scale with your growth.
Our blister packaging machines are not just best-in-class, but they also redefine industry standards. Assembled with high-grade materials, they guarantee stellar performance while ensuring your products' safety and integrity. On top of that, we are committed to aiding your seamless transition to our technology. Hence, we provide ample training and guidance for efficient operation of our machines.
Moreover, we supply an array of quality blister packaging supplies. We believe that variety is the key to innovation, and our extensive range of supplies is testament to that. From different material grades to sizes, we cater to all your unique needs. Furthermore, our transparent pricing model ensures you always receive the best value for your money.
Lastly, we offer bespoke blister packaging tooling. Understanding that no two businesses are alike, our solutions are designed for customization. Our experts work closely with your team to tailor the tooling to your precise requirements. This personalized approach not only promotes productivity but also empowers you to create distinctive product packaging.
In essence, choosing POWERPAK Industries, LLC for your blister packaging needs is a strategic decision that will propel your business forward. Our robust machines, diverse supplies, and bespoke tooling make us the ultimate one-stop-shop for blister packaging. Don't just package, PowerPack with POWERPAK!
Experience Unparalleled Efficiency with POWERPAK's Blister Packaging Machines
Picture this: your product line is growing and so is your clientele. It's time for your business, whether small, medium, or large, to elevate its packaging process. With blister packaging machines from POWERPAK Industries, LLC, that progression becomes a reality.
Our blister packaging machines are designed for maximum efficiency and adaptability. To start, they're engineered with a unique blend of speed and precision, meaning your packaging process becomes faster without sacrificing the integrity of your product. Moreover, the customizable settings allow you to configure the machines to your product specifications, enhancing overall productivity.
In addition, our blister packaging machines feature user-friendly interfaces. You might be thinking, "Do we need special training?" Well, the answer is no. These machines are easy to operate and come with comprehensive manuals to ensure a smooth transition from your current process. In this way, we ensure you don't lose precious time adapting.
But that's not all. As a testament to our commitment to your success, POWERPAK's blister packaging machines come with dedicated support. If you run into any issues, our team is available round-the-clock to provide assistance. This commitment to client satisfaction sets us apart in the industry.
In essence, choosing POWERPAK's blister packaging machines means investing in your business's growth and efficiency. It's a step towards minimizing downtime, increasing productivity, and maintaining high standards for your products' integrity. So why wait? Discover how POWERPAK Industries, LLC can revolutionize your packaging process today!
Elevate Your Packaging Game with POWERPAK's Superior Blister Packaging Supplies
In today's competitive market, the importance of quality packaging cannot be overstated. Whether you run a small startup or a large-scale enterprise, the right packaging materials can make all the difference in preserving product integrity and boosting customer appeal. That's where POWERPAK Industries, LLC, with our top-notch blister packaging supplies, steps in to empower your business.
Our blister packaging supplies are not just products, they are solutions. Tailored to meet the diverse requirements of businesses of all sizes, these supplies are your ticket to streamlined operations and better product presentation. In fact, they offer the perfect combination of durability and aesthetic appeal, ensuring your product not only remains safe but also stands out on the shelves.
Moreover, our blister packaging supplies are easy to use with any standard packaging machine. This means no matter what equipment you currently utilize, integrating our supplies into your process is a breeze. Plus, we provide detailed guidelines on how to achieve optimal results, guaranteeing a smooth transition and reduced downtime.
What sets POWERPAK apart is our commitment to quality and customer satisfaction. We understand that every business has unique needs, and therefore, our blister packaging supplies come in a wide variety of sizes and materials. Our customer service team is always ready to assist you in selecting the most suitable supplies for your specific product and market.
In essence, investing in POWERPAK's blister packaging supplies is a smart business decision that equates to improved product safety, enhanced visual appeal, and efficient operations. So why wait? Discover the POWERPAK difference today and take your packaging game to a whole new level.
Propel Your Business with Customized Blister Packaging Tooling from POWERPAK Industries, LLC
Have you ever considered how vital the right tooling is to your packaging process? For businesses of all sizes, investing in optimal blister packaging tooling can revolutionize operations, driving efficiency and improving the bottom line. Enter POWERPAK Industries, LLC, your premier destination for top-tier blister packaging tooling.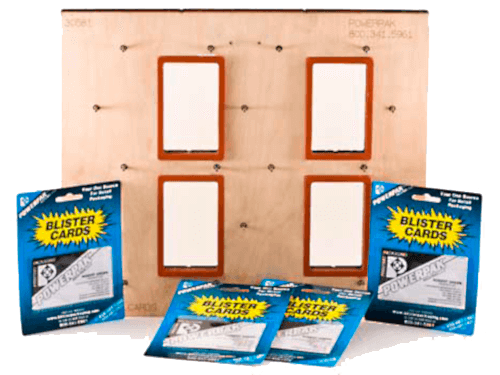 Our tooling solutions are renowned for their precision and durability. These aren't just off-the-shelf items – they're meticulously designed to match your specific requirements. We understand that your product is unique, and we believe your packaging process should reflect that. Hence, our blister packaging tooling is designed to cater to your exact product dimensions and specifications, thus enhancing packaging speed and reducing wastage.
Moreover, our blister packaging tooling is user-friendly and adaptable to various packaging machines. You won't need to worry about complex integration or steep learning curves. Plus, our team is always on hand to provide any guidance required, ensuring your transition to our tooling solutions is seamless.
What truly sets POWERPAK apart is our unwavering commitment to quality. We guarantee that our blister packaging tooling is manufactured from the finest materials and under stringent quality control measures. Furthermore, we offer comprehensive after-sales support, resolving any concerns promptly and professionally.
Ultimately, choosing POWERPAK's blister packaging tooling means empowering your business with bespoke solutions that are designed for your success. It's a choice to improve efficiency, reduce wastage, and enhance your product's presentation. Why settle for less when you can opt for the best? Explore POWERPAK Industries, LLC's superior blister packaging tooling today, and let us guide your business towards unparalleled packaging excellence.
Revolutionize Your Business with POWERPAK's Comprehensive Retail Packaging Solutions
In an era where branding is paramount, retail packaging is not just a protective measure, but also a key player in establishing your product's market identity. Whether you're running a small startup, a medium-sized company, or a large enterprise, POWERPAK Industries, LLC provides dynamic retail packaging solutions tailored to your specific needs.
Our retail packaging services are meticulously designed to elevate your product's appeal and ensure optimum safety during transportation. We understand that your packaging is the first touchpoint for your customers, and hence, we aim to create an unforgettable first impression. With a diverse range of materials and designs, our retail packaging embodies the perfect blend of functionality and aesthetics.
Moreover, our retail packaging services are incredibly flexible, seamlessly adapting to your product's unique requirements. Do you need packaging for a fragile item? We've got you covered. Need to add a creative touch to your product presentation? Consider it done. In essence, our solutions are custom-made to amplify your brand's voice and appeal to your target audience.
Furthermore, we at POWERPAK strive for superior customer satisfaction. We offer a smooth and efficient process from start to finish, backed by our experienced team ready to assist at every step of your retail packaging journey.
Ultimately, investing in POWERPAK's retail packaging services means investing in your product's success. It's an opportunity to distinguish your brand, impress your customers, and elevate your business to new heights. So why wait? Discover the POWERPAK advantage today and let us redefine your retail packaging experience.
Boost Your Profits with POWERPAK's Premium Retail Packaging Solutions
The retail landscape is fiercely competitive, and the packaging of your product can significantly influence its success. It's more than just a protective measure; it's a powerful marketing tool. With POWERPAK Industries, LLC's professional retail packaging supplies and machines, you can transform your packaging process, save money, and significantly boost your profits.
Investing in our high-quality retail packaging supplies and machines equates to cost-efficiency and enhanced brand image. By leveraging our cutting-edge technology and top-grade materials, you can drastically reduce product damage during transit. This means fewer returns and replacements, leading to substantial cost savings.
Furthermore, our retail packaging supplies and machines are designed to optimize your packaging process. With their robust design and user-friendly interface, these machines can streamline your operations, saving time and manpower. This increased efficiency translates into reduced overheads and higher productivity, positively impacting your bottom line.
But the benefits of our retail packaging solutions extend beyond just savings. Aesthetically appealing and durable packaging elevates your brand's image, leading to increased customer loyalty and repeat purchases. This is a powerful tool for driving revenue growth and improving market share.
Moreover, we at POWERPAK are committed to ensuring a seamless transition to our packaging solutions. Our team provides comprehensive training and round-the-clock support, helping you maximize the return on your investment.
In essence, choosing POWERPAK for your retail packaging needs is an investment in your business's profitability and growth. It's a strategic move towards cost-efficiency, enhanced brand image, and improved customer satisfaction. So why wait? Embark on your journey to profitability with POWERPAK's retail packaging solutions today.